Approximately every third produced vehicle leaves the assembly line with a SEG Automotive product inside – and yet the products are hardly noticeable to the driver. And this is a good thing as this characterizes high-quality Starter Motors and Alternators, also called Generators. 
SEG Automotive is a partner of choice for leading vehicle manufacturers around the globe. The company headquarters and the core of research and development are located at the founding location in Stuttgart, Germany. As a pioneer in the field of Starters and Alternators, SEG Automotive combines quality made in Germany and German engineering with international experience and production know-how. Wit carve-out from the Bosch Group in 2018, the brand SEG Automotive was founded and is also present in the automotive aftermarket since then. 
The new company name reflects the program: between the "S" for Starter and the "G" for Generator, the "E" stands for electrification components, as transformation of more than 100 years of e-machine expertise into specific solutions for 48V and high-voltage electrification, and thus the future of the automotive industry.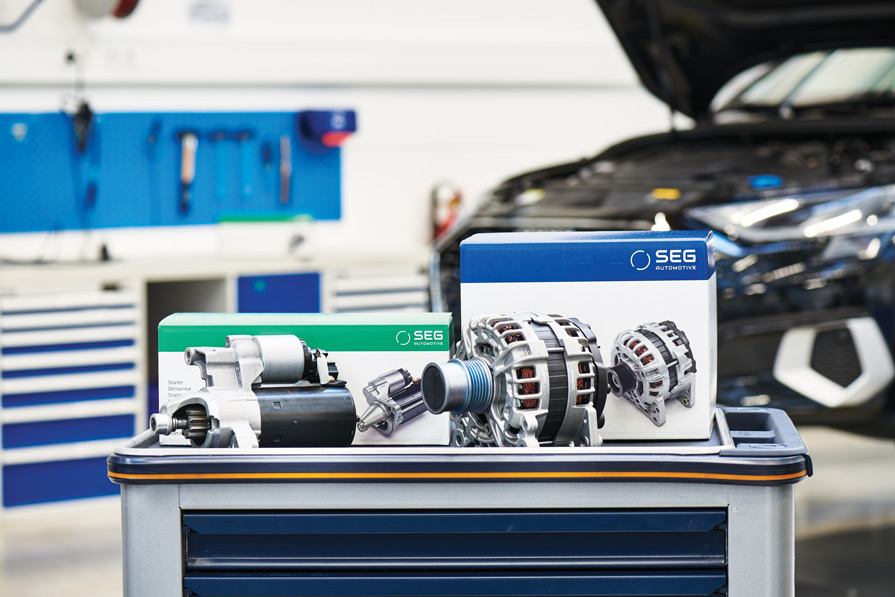 Mobility starts with us – for more than 100 years.
Ever since we developed the first electric Starter in 1914, we have been a reliable partner for passenger car and commercial vehicle drivers. Start for start, the engine gets started in a smooth and quiet manner. Even under the toughest conditions, such as coldness, extreme temperature fluctuations, mud or water. 
And nowadays our Starters are capable of a lot more: As technology leader for Start/Stop, our products significantly reduce fuel consumption and CO2 emissions. Accordingly, customers all over the world value their robustness, reliability and efficiency. 
Power supply at its best – our Alternators. 
Even vehicles with internal combustion engine cannot get going without electricity. The number of electrical consumers in a vehicle is high - and the trend is rising due to the increasing amount of driver assistance and comfort systems. No matter whether it is engine control units, sensors, navigation systems, safety functions such as ABS and ESP or the battery - all of these and many other consumers must be supplied with energy via the vehicle's electrical system. This is exactly where the Alternators, or Generators, from SEG Automotive come into play and guarantee a reliable and efficient energy supply – at any time
With growing demands of energy consumers in the vehicle, Generators must be significantly more powerful than in the beginning. Due to their high efficiency, our Generators make a significant contribution to reducing fuel and complying with the increasingly strict CO2 legislation. 
A little more – 48V Technology.
In the field of mild hybrid drive technology as a transitional phase to electromobility, the Boost Recuperation Machine, BRM for short, from SEG Automotive converts with minimal effort conventional combustion engines into efficient mild hybrids. The 48V BRM replaces the conventional 12V Generator. The kinetic energy during braking is recovered, stored in a 48V battery and is then available to power high-performance consumers such as roll stabilizers or electric brake boosters. 
In addition, driving functions such as extra smooth comfort start, boost and coasting at high speeds with the engine switched off are enabled, which reduce overall fuel consumption. Under real driving conditions, the BRM reduces fuel consumption and CO2 emissions by up to 15%. At the same time, 48V is a voltage level that is harmless to humans. In contrast to high-voltage systems, no special safety requirements or cable harnesses are necessary for the 48V vehicle electrical system.
Furthermore, the BRM is used as the main drive for light electric vehicles such as e-scooters, e-rickshaws and microcars.