Catalytic converters (CAT) are designed to turn harmful constituents of exhaust emitted by internal combustion engines into harmless gases by means of a chemical reaction.
Structure of catalytic converters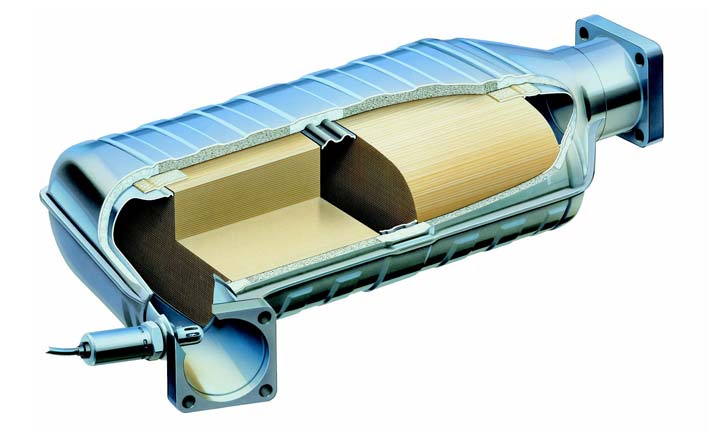 A catalytic converter consists of a stainless-steel casing that houses a metallic (metalith) or ceramic (monolith) substrate. This substrate has a very large number of fine channels running through it along its length. The aim here is to create the greatest possible surface area to optimise the catalytic effect. The surface of the substrate is coated with a highly porous layer (washcoat) to which precious metals (platinum, palladium and/or rhodium) are added in suspension. It is these precious metals that are the actual catalysts initiating the chemical reactions required to purity the exhaust gases.
Types of catalytic converters
EOBD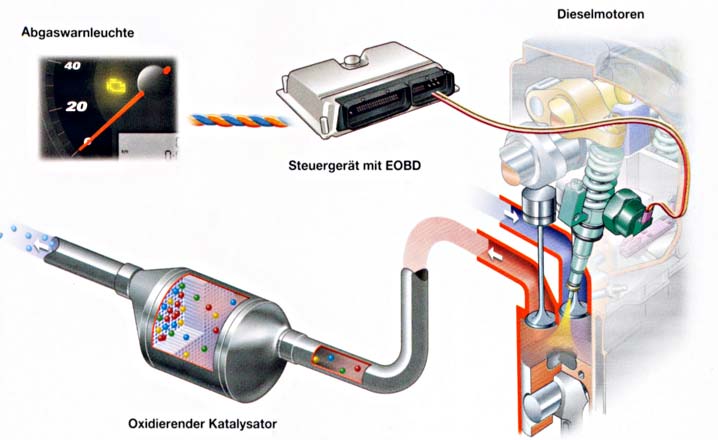 Replacement catalytic converters for Euro 3 and Euro 4 vehicles with European On-Board Diagnostics (EOBD) are known as EOBD-capable catalytic converters. Electronic On-Board Diagnosis is mainly found in recent vehicle models. This function monitors all emissions-relevant components and sensors while the vehicle is on the road. It registers any malfunctions and warns the driver, for example with an indicator light (MIL). The latest generations of diesel vehicles are generally equipped with the EOBD function.
Oxidation catalytic converter
Diesel engines usually function with a large amount of excess air, so that the exhaust gases contain high levels of oxygen. Catalytic converters for diesel engines oxidises
carbon monoxide (CO) to carbon dioxide (CO2) and
hydrocarbons (HC) to carbon dioxide (CO2) and water vapour (H2O).
Three-way catalytic converter
The three-way catalytic converter is designed for SI engines. At operating temperature it converts:
unburnt hydrocarbons (HC) into CO2 and water vapour (H2O)
carbon monoxide (CO) into carbon dioxide (CO2)
nitric/nitrogen oxide (NO/NO2) into nitrogen (N2) and oxygen (O2).
These processes take place simultaneously in the CAT, which is the reason why it is called the three-way catalytic converter.
A three-way catalytic converter depends on a specific exhaust gas composition to achieve its full effectiveness. The process must release exactly the right amount of oxygen as required to oxidise the hydrocarbons and carbon monoxide. This is the case when one part of fuel is mixed with 14.7 parts of air and then burnt in the engine. Here we speak of a stoichiometric mixture (lambda = 1). To produce this mixture, the residual oxygen content in the exhaust gases is measured by the Oxygen sensor positioned between the engine and the catalytic converter. The result is processed by the engine management system, which outputs control pulses ensuring an optimum air-fuel ratio.