The air conditioning in a vehicle must cool the passenger compartment and draw moisture out of the fresh air supply. As such it provides an assurance of pleasant passenger compartment temperatures even in strong sunlight and condensation-free windows when humidity levels are high.
components of vehicle air conditioning
The most important components of vehicle air conditioning systems are:
Compressor
Capacitor
Dryer
Expansion valve
Evaporator
The individual components are interconnected via hose lines to form an enclosed system known as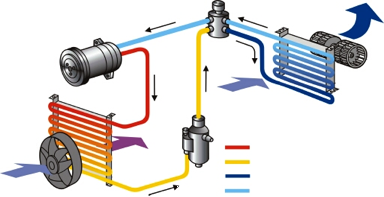 the refrigerant circuit. The refrigerant circulates in the refrigerant circuit. It is driven by the compressor.
The refrigerant circuit is divided into two sides:
The part between the compressor and the expansion valve is called the high-pressure side.
The area between the expansion valve and the compressor is the low-pressure side.
Ablauf in der Fahrzeugklimaanlage
The gaseous refrigerant is compressed in the compressor and heated to a very high temperature.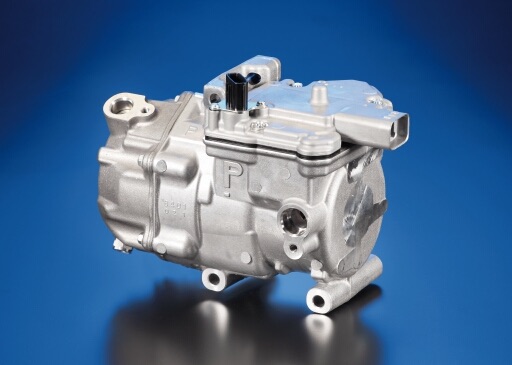 Finally, it is pressed through the capacitor at high pressure. The capacitor is usually located near to the radiator. In the capacitor, heat is drawn from the very hot refrigerant, causing it to condense, i.e. change from a gas to a liquid.
In the dryer (the next station), impurities and air pockets are separated out of the liquid refrigerant. This safeguards the effectiveness of the system and protects the components against damage caused by impurities.
After the dryer, the liquid refrigerant travels to the expansion valve. The function of the expansion valve is similar to that of a weir. Upstream of the weir, it ensures that constant pressure is maintained. Downstream of the weir, on the other hand, decompression can occur as a result of volume expansion. As the expansion valve is positioned directly upstream of the evaporator, the refrigerant decompresses into the evaporator. During this process, its physical condition changes from liquid to gas. As part of this physical process, the refrigerant draws heat from the atmosphere; this is perceived as evaporation chill.
Like the capacitor, the evaporator is a heat exchanger. It has a huge surface area across which it emits evaporation chill into the atmosphere. The chill emitted is then injected into the passenger compartment by the ventilation system, where it is responsible for making passengers feel comfortable. On the low pressure side, the refrigerant, which has now turned back into a gas, is fed back to the compressor, where the circuit starts again.
In modern vehicles, air conditioning is part of thermal management. This includes both engine temperature control in all operating conditions and heating/cooling the passenger compartment.
Accordingly, a modern thermal management system comprises components for:
Vehicle heating
Air conditioning
Components of these assemblies interact and often form a single unit. The vehicle air conditioning system is thus a combination of car heating and refrigerant circuit. This combined approach enables the desired climate conditions to be established regardless of the conditions outside the vehicle.