Headlight systems
Today's cars feature the following headlight systems:
Halogen headlights
Headlights with H3, HB3, H7 and H9 bulbs have traditionally been used in vehicle illumination. They still enjoy great popularity today. Advances in halogen technology have resulted in a very good price/performance ratio for halogen headlights as original equipment.
Xenon headlights
Xenon light has two decisive advantages over the light emitted by conventional halogen bulbs:
Firstly, a Xenon bulb supplies more than twice the light of a modern H7 bulb but needs only 2/3 of the electrical power to do this.>
Secondly, the light colour of a Xenon bulb is similar to daylight. This additional light makes the road lighter and brighter.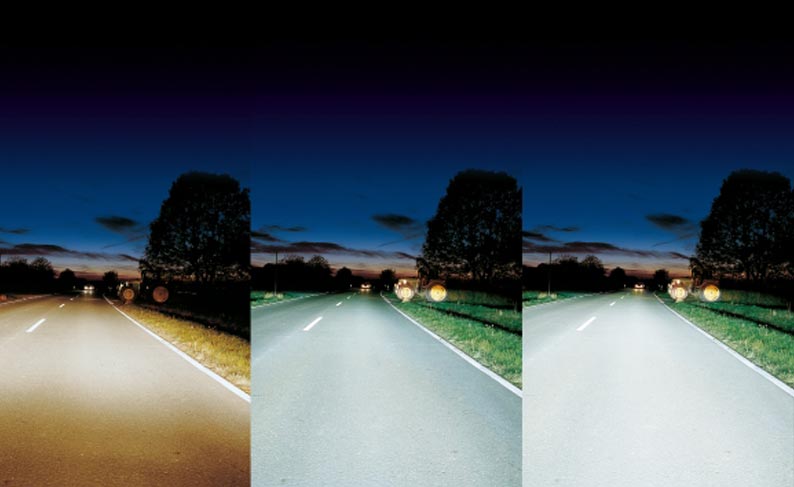 Dangers at the edge of the road and even on the road are detected sooner. The improved illumination of the road and the daylight quality of the Xenon light accommodate the natural viewing habits of the human eye – drivers do not get tired as quickly and adopt a more relaxed driving style.
With Xenon technology, instead of the coiled filament in a conventional bulb, the light in the bulb is generated by an intensive light arc. The high voltage of 20,000 V required to light up the Xenon bulb is supplied by an electronic ballast.
Full LED headlights
Energy-efficient and cost-effective, LEDs (light-emitting diodes) are becoming increasingly popular in all areas of the vehicle industry. Leading component manufacturers have succeeded in expanding the spectrum of possible applications for vehicles of all types at a rapid pace. Reliability, cost-effectiveness and design variety are the convincing arguments in favour of using LEDs in common applications.